usw sign wire welding machine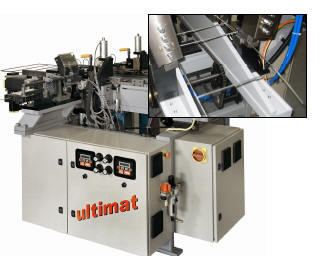 The usw series of welding machines are designed specifically for the fully automatic manufacture of wire frames
used for Yard Stakes used in Political and Real Estate Advertising Signs.
The machine takes 2 line wires direct from coil and automatically feeds them into the welding stations.
Where upon the cross wire is fed direct from coil and automatically spot welded into position,
onto the two line wires. With the frame being indexed automatically between welds, up to 99 cross wire weld positions
can be set within the frame. On completion of the welding cycle the part is fed out, cut to length and placed on a stack.
Model

Wire Range

Frame Width

Frame Length

usw

-40

2.00 - 4.00mm

.080" - 0.162"

Min: 50mm (2")

Max: 200mm (8")

Min: 200mm (8")

Max: 800mm (32")

usw-65

2.00 - 6.50mm

.080" - 0.256"

Min: 50mm (2")

Max: 200mm (8")

Min: 200mm (8")

Max: 800mm (32")

usw

-80

3.00 - 8.00mm

0.120" - 0.315"

Min: 100mm (4")

Max: 600mm (24")

Min: 200mm (8")

Max: 1000mm (39")